A man's journey to loving love
[ad_1]
Editor's Note: This month is September 2020, the #MoodOfTheMonth of FII is Boys, men and masculinities, where we invite various articles to highlight the different experiences of masculinity that manifest in our daily lives and which have challenged, subverted or even perpetuated traditional forms of 'manhood'. If you would like to share your article, email us at [email protected]
---
Posted by Shiladitya Sinha
"Gender is therefore a construction which regularly obscures its genesis."
—Judith Butler
Moments after I was born, a proclamation arrived— 'chele hoyeche'(he's a boy), say ignorant beings like me. I have no way of knowing if the hospital room was cramped except for stories I can't remember. Still, I wonder if the festive air in that room carried a hint of conscience regarding the stipulations the sentence implied.
From what I know, it was axiomatic of how I should dressing, talking, feeling and having fun, giving my existence a burden to carry a lifetime no matter how I wish to get rid of it. As a currently heterosexual, upper caste "Hindu" male, my privileges are so vast that they often cause shame, even guilt, while inevitably telling long-held oppressive stories to me.
My social position "allows" me to have experiences that many would not dare to imagine, such are the existing imbalances in our world. Even though I am, say, disloyal to my partner, I can expect to find someone who "gets it"; someone willing to justify my actions as "quite natural" because after all "men will be men", as popular slogans proudly and shamelessly assert.

Privileges, as by nature, shape our actions invisibly, at least as long as we ignore how they dictate our lives. As I write this article, I shudder in retrospect, anxious to confront the "male" vices that have crept into my every thought and action since the day of the declaration.
In their encyclopedic project—Men & Masculinities (2003)– publishers Kimmel & Aronson stress that "men are not born; they are made. "They further claim that we (men) make ourselves, participating in" social life as a man, "and in doing so, we actively construct our masculinity. -to say that I was not just a passive recipient and that I cannot feign innocence for the misdeeds of manhood.
Despite allowing a myriad of possibilities, my gendered socialization vehemently denied me permission to be emotionally expressive. From "mard ko dard nahi hota" (men don't feel pain) to peer group slang like "sissy" and so on, there is a coercive saying against so-called men (or just men) being sentimental. Emotionality, as understood in the dominant normative discourse on masculinity, is an essential quality of femininity, and again, the woman is "the other classic" for the man. A man in our culture should therefore be anything that is not feminine, even if that means denying (or defying) a human ability.
When I was a kid, if someone was around when I was in pain or anguish, they quickly reminded me that big boys not shout. We often speak with nostalgia that childhood is the best time of our life, but at this time the urge to grow up – to belong– engulfed me and I took these sermons for granted, trying to mold myself accordingly. Of course, the pain hasn't gone away, it never does. But I have learned the ways of denial. If I had known then, as I do now, that there is nothing Natural about stoic boys – quite the contrary – my childhood would probably have been less marked by conflict, both internal and external. I wish I could ask if this is "natural", so why the enforcement coercive?
In a man's world, emotions are weaknesses which, if not completely dominated or denied, must be treated with complete privacy. For my part, I cried stifled tears, behind closed doors, complaining to imaginary listeners. Adolescence, as we know, is an emotional roller coaster, when life gets carried away with massive upheavals which, at the time, were often incomprehensible. Unlike the genre, the hustle and bustle of this formative phase of life is truly natural for everyone, despite the manifestations and varying degrees.
It is a time when we seek liberation and connection, all at the same time, while often perceiving them as opposing, even contradictory, entities. For my part, walking on the path to freedom was to break existing ties on the one hand; while on the other hand, I was in desperate need of company. In the naive haze and adrenaline overdose of rebellious adolescence, every friendship was indomitable, every romance boundless.
Now, long after the clouds have cleared and the sun is shining on pleasant days, having grown over many dislikes disguised as "progressive" ideals of love and lovemaking, I have started to to see how the relationships of that time lacked depth and understanding. Not because there was no love, but because I was unable to love, to realize that relationships, no matter what form or meaning, are built in a two-way process, where expression is the cornerstone.
Read also : PUBG and the glorification of hyper-toxic masculinity
to be a man quite is not only to dominate the pain, but almost the whole range of emotions. Intimacy – except sexual, and this too, predominantly heterosexual – is most of the time prohibited for a man, prohibiting overt expressions of affection. During some phase of his life a man may be the "deewana", but for the most part he must be angry, brutal and harsh. In normative terms, a man's love is measured and composed – part of his duty – and never unbridled, erratic or illogical. Men, in this sense, must to love rationally, which in fact somewhat precludes their capacity for selfless, passionate and "motherly" love. The process, of course, is more complex and nuanced than I can explain with my limited scientific understanding of the subject.
Either way, as many important currents of our folklore and philosophy define it differently, to truly love we must become one with its object. Love, in this sense, is an act of submission – of letting go – and of immersive and passionate devotion, where it ceases to be a means and emerges as an end in itself. Indeed, to a large extent this is the ideal form and our worldly expressions, masculine or not, are quite removed from this state of universal love. Yet even in the context of our daily realities, loving is above all about showing empathy; put oneself in the other's shoes, even without becoming a with the lover, as he has become Meera Where Nitai Where Kabire.
When we love as men – as armored beings – we fail to fully devote ourselves and empathize. For a long time, I lived with the misconception that it is enough to harbor love within, not realizing that in the end, it is the expression of affection, care and loyalty which gives tangible form to the abstract name of love. Love takes on meaning when expressed, and yet expression is something we are incapable of unless we unlearn our normative masculinity.
Time and time again, feminist scholars have reiterated the need to perceive masculinity in plural terms – masculinities – to include in its folds other forms of this gendered existence that the dominant, stoic, normative masculinity excludes. Coming out of pages full of complex syntax and vocabulary, infiltrating our practical lives, such re-learning of our identities could allow us to better understand the world.
Read also : Masculinity savior syndrome: can our "heroes" never fall apart?
Probably, only probably, it would have made me feel more comfortable with myself, back in the days when I remained peripheral to peer groups who discussed cars, sports and discouraged befriending them. girls. Also, in the journey that followed, I might have been able to be more receptive and able to experience the world like other people, like my lover, like my friend, and like you.
---
Along with writing, both professionally and for hobby, Shiladitya cherishes the experiences of music, reading, and film, while being perpetually eager to interact with people's lives and cultures. You can find him on Facebook, Instagram, LinkedIn and Twitter.
Featured Image Source: Feminism in India


About the authors)
Guest writers are writers who write on FII occasionally.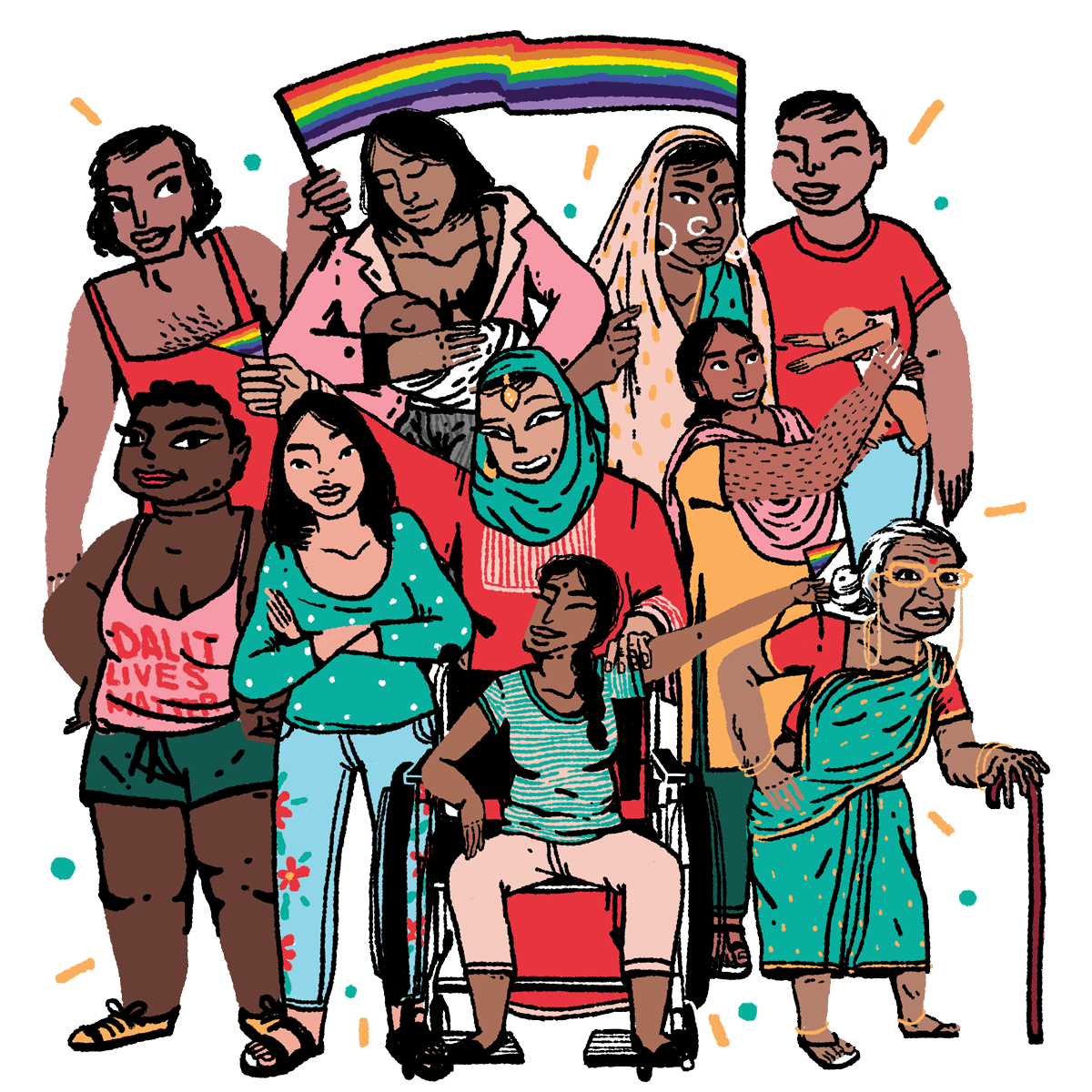 [ad_2]